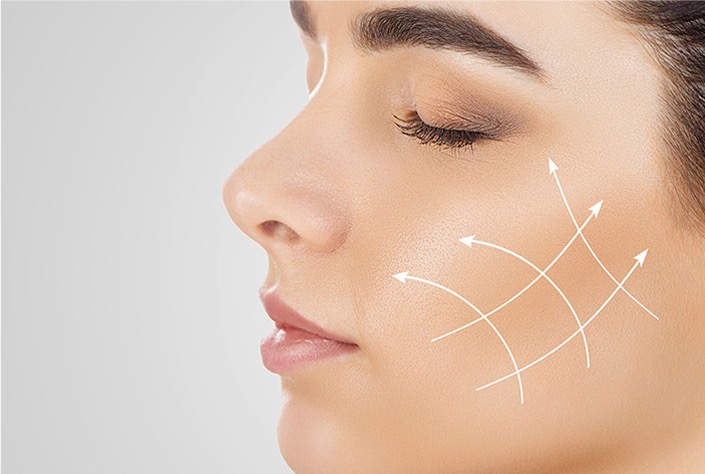 Facial Shaping & Sculpting
At Transform, we believe that every feature should be your best feature. And with facial shaping, that's never been more true.
Facial shaping is a growing field of cosmetic medicine that uses Botulinum Toxin A and dermal fillers to sculpt your facial structure for improved definition, balance, and beautification of your facial structure.
Through an assessment, we can personalise a treatment plan to include a combination of treatments that will give your face definition, symmetry and a more youthful appearance.
Book your free consultation today.
How facial shaping & sculpting work
For the aging face
As we age, our facial shape changes. Aging has an effect on our skeletal structure, bone volume, and subcutaneous fat volume in our face, and this can have a deflating effect. As a result, signs of ageing become more obvious, even from a distance. The temples, jowls and cheeks often appear sunken.
With the right combination of injectables & other treatments, however, we can turn back the clock and reverse the shadows that may give a 'gaunt' look.
A combination of treatments can be used to restore lost volume and definition, reduce fat, relax certain muscles, and lift certain parts of the face to achieve a rejuvenated appearance.
Enhancing the face
With precise and expert placement, we can enhance the overall natural-beauty of the face by treating certain features of the face to contour and improve symmetry, facial balance, definition and proportions.
Treatment Options
Dermal Fillers
Dermal fillers are used to sculpt & enhance facial features. They are commonly used to sculpt features such as the cheeks, tear troughs, nose, temples, chin, and jawline.
Common areas for men include the jawline, chin and cheekbones, which may be enhanced to give a more youthful, masculine appearance.
Fillers can also be used to rejuvenate your face by lifting and defining certain features for a brighter, younger-looking appearance and improved skin quality.
Botulinum Toxin A
Botulinum Toxin A can be used to make the face appear more slender and less box-like. Commonly used to slim the jaw, the lower pole of the jaw / masseter muscle is injected and as a result, over time, the size of the muscle decreases, and thereby creates a slimmer appearance.
PDO MINT™ Thread Lifts
PDO MINT™ Thread Lifts are a non-invasive treatment used to instantly improve facial sagging with little to no recovery time needed. These thread lifts lift drooping & sagging skin to restore lost facial volume.