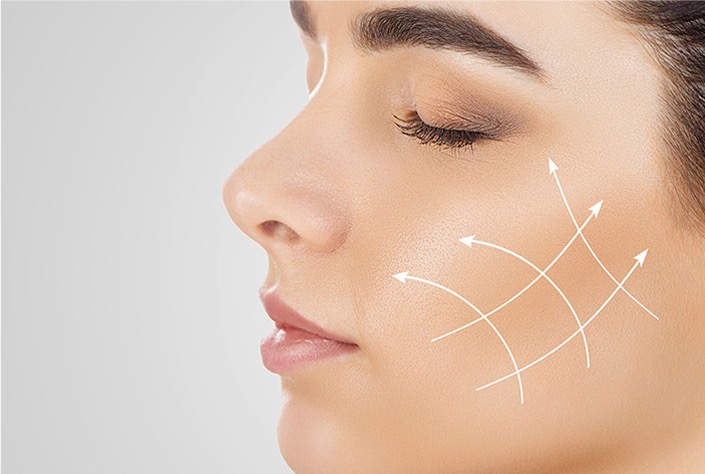 Facial Definition
Facial shape can be enhanced through injectable gel implants, achieving the look you desire. Common areas include the cheeks, tear troughs, nose, chin and the jawline.
As we age the shape of the face changes - both the facial bone volume and subcutaneous fat is reduced and therefore the face deflates. This may cause the recognisable irregularities and shadows of ageing, often making you look grumpy and drawn.


Our Treatments
Botulinum Toxin A is also used for making the face more slender and less box-like. Injecting the lower pole of the jaw muscle results in a weakness of this muscle, creating a slimmer appearance of the outer jaw.
By evaluating your face and stage of aging, we can work out the best combination of injectable products that will give your face better definition for a more youthful look. Clients often achieve the results they desire with only natural and subtle enhancements.
Jowling can be greatly improved by a combining a few non-surgical treatments:
PDO Mint Threads
Reducing the jowl fat with injection lipolysis
Relaxing the muscles that make your mouth turn down
Enhancing by sculpting the jawline by fillers
Lifting the mid-face with an injectable cheek implants
PDO Mint Thread lifts
The PDO Mint Thread lifts is a non-invasive treatment for facial sagging with instant results and very little to no downtime. Restores lost facial volume and lifts drooping and sagging skin. Learn more (link to threads page)
The best thing you can do is book a consultation, so we can get to know you and what results you desire and then provide you with treatment solutions that will deliver you the best results. We are happy to answer all your initial questions with a virtual or video consultation too.
We offer a variety of the market leading products to suit different skin types, areas being treated and the desired outcomes. Please feel free to get in touch if you would like to know the specific products we have on offer.